---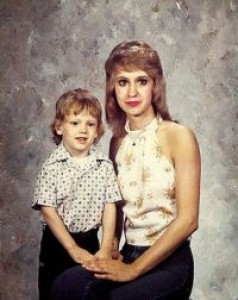 Marshall Bruce Mathers III se narodil 17.října v Kansas City Missouri.Jeho rodiče jsou Debbie Briggs Mathers a Marshall Mathers II.Jeho otec od nich odešel,když Emovi bylo pouze 6 měsíců.Takže otce nikdy nepoznal.Své dětství strávil s mámou s kterou se pořád stěhovali mezi Kansas City a v oblasti Detroitu.Když mu bylo 12 usadili se s matkou ve Warrenu,Michigan.Marshall a jeho strýc Ronnie milovali hip hop a ve 14 letech se mu začal Marshall věnovat.Ronnie byl jen o 2 měsíce starší než Marshall,byli nejlepší kámoši jako strýc a synovec.Když mu bylo 17 začal chodit s Kim Ann Scott a na škole se seznámil s jeho budoucím nejlepším kámošem proofem.Brzy si začal říkat M&M,což jsou iniciály z jeho jména-Marshall Mathers.Potom se jméno se změnilo na přezdívku kterou známe dneska, na Eminem.Marshallův sen před tím než se chtěl stát raperem byl,že chtěl dělat komixy.Později co ho vyrazili ze školy pracoval se svojí mámou ve Fish chip chop,potom pracoval v Burger joint.Zatímco Marshall pracoval snažil se soustředit na hudbu a hlavně psal texty.V roce 1991 jeho strýc Ronnie spáchal sebevraždu,rodina a kamarádi řekli ,,že ho podváděla jeho holka''.Marshall byl velmi rozrušený a měl deprese.Nebyl ani schopný jít na Ronnieho pohřeb.Na jeho památku si eminem nechal vytetovat na levé rameno-Ronnie R.I.P.V roce 1995 se Kim a Marshallovi narodilo dítě-holčička-Hailie Jade Scott.Kim a Marshall se pořád hádali a hlavně u koho bude Hailie.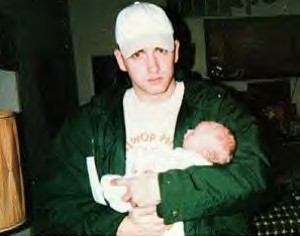 V roce 1996 vydal nezávislé album Infinite,které nebylo moc úspěšné,ale za zmínku stojí určitě hit Rock Bottom.V tom samém roce si Marshall vzal nadměrnou dávku prášků na spaní,ale naštěstí se probudil.Neměl ani na jídlo a nemohl uživit ani Kim a Hailie,pro něho byly na prvním místě.A tak se rozhodl že natočí další album nesoucí název The Slim Shady EP a ještě k tomu se zúčastnil rapové soutěže-Rap Olympics.A skončil na 2 místě.
O týden později mu zavolal Dr.Dre a Interscope.Dremu se dostalo do ruky Emovo album.A tak Eminem odletěl do Kalifornie.Tam podepsal smlouvu s Interscope a zanedlouho vydal své album The Slim Shady LP.V písních uváděl hlavně svojí dceru a album se stalo velkým hitem.Eminem dostal ocenění za nejlepší rapový výkon ve známém songu MY NAME IS.V roce 2000 vydal album The Marshall Mathers LP.Toto album se v jednom týdnu prodalo 2 Milliony kopií.Opět v písničkách byla uváděna jeho dcera ,snad v každém songu bylo uvedeno její jméno.Na albu se také zmínil o svém strýci a o jeho osudu.Během tohohle všeho se Marshall a Kim vzali.Svatba byla soukromá bez veřejnosti.Ale manželství dlouho nevydrželo,v roce 2001 se rozvedli.Střídali se s výchovou Hailie a adoptovali její sestřenici Alainu.V roce 2003 Kim porodila dítě-Whitney Halter.Na albu The Eminem Show opět zmiňuje svojí dcerku-v songu Hailie Song nebo My Dad's Crazy.V roce 2004 vydal album encore na kterém je hit MOCKINGBIRD ,který směřuje k Hailie a k její sestřenici.Počátkem 2005 se s Kim opět dali doromady a 14.ledna se podruhé vzali,což byl asi šok pro každého.V roce 2006 vydal album Curtain Call,na kterém je hit WHEN I'M GONE.Eminemovi slabé chvíle ale neskončili…11.4.2006 byl zastřelen jeho nejlepší kámoš a člen D12 Proof.viz.článek:ZDE.
Byl to zásah určitě pro hip hopový svět,ale hlavně pro Ema.Ten si nechal vytetovat na ruku Proof-viz.článek:ZDE.
V prodeji je už i nové album The Re-Up,které slouží také jako památka zesnulému Proofovi.Z tohoto alba jsem už mohli slyšet singl YOU DON'T KNOW a vidět i videoklip.
FILMOGRAFIE:
Da Hip-Hop Witch (2000)
The Wash (2001)
8Mile (2002)
Have Gun-Will Travel (2007)
DISKOGRAFIE:Soul Intent (1995)
Infinite (1996)
The Slim Shady EP (1997)
The Slim Shady LP (1999)
The Marshall Mathers LP (2000)
The Eminem Show (2002)
Encore (2004)
8Mile ro (2002)
Curtain Call(2005)
The Re-Up (2006)
_________________________
Infa o jeho rodině:
NATHAN MATHERS:Se narodil 3.února 1986 Debbie a Fredovi Samara mladšímu.Je to nevlastní bratr Eminema.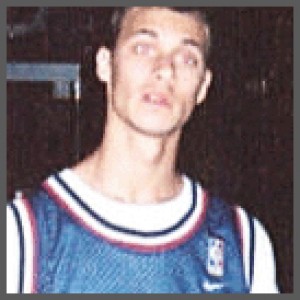 DEBBIE BRIIGS-Je jeho matka.Porodila ho v 17 letech.Mezi nimi byl velice špatný vztah.Dokonce ho udala k soudu,protože v jednom rozhovoru řekl že brala drogy a byla závislá na alkoholu.Krátce po smrti Emova nejlepšího přítele Proofa se zjistila u ní rakovina a Eminem se rozhodl že jí odpustí a zaplatil všechno potřebné co se léčby týče.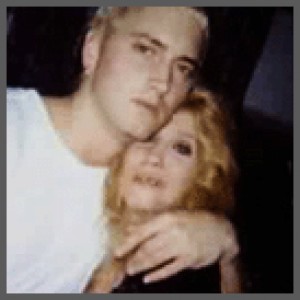 RONALD DEAN POLKINGHARN (RONNIE)-Je Eminemův strýc ačkoli byl jen o 2 měsíce starší.Mezi nimi byl velmi dobrý vztah a když v 19 letech spáchal sebevraždu,Em se s tím dlouho nemohl smířit.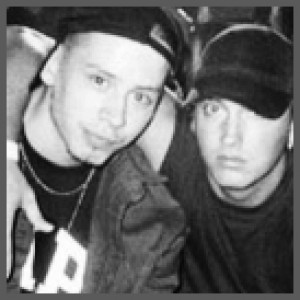 TODD NELSON-Je Debbie bratr a další strýc Eminema.Rozvedl se svou 1.manželkou Janice a oženil se znovu,s Katherine.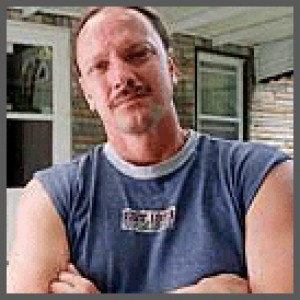 BETTY KRESIN-Je matka Debbie.Betty má 6 dětí a Debbie je nejstarší.Eminemův oblíbený strýc Ronnie je její syn také.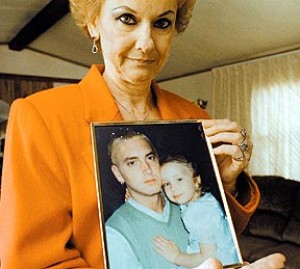 HAILIE JADE SCOTT-Narodila se 25.prosince 1995
Rodiče:Kim a Eminem
Sourozenci:Whitney Halter
Nejlepší kamarád(ka):Alaina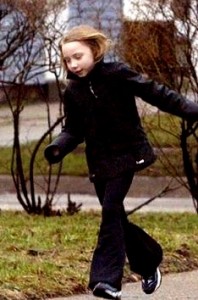 AMANDA MARIE SCOTT(ALAINA)-Narodila se:3.května 1993
Rodiče:Dawn Scott a ??
Sourozenci:Adam(dvojče) a PJ
Nejlepší kamarád(ka):Hailie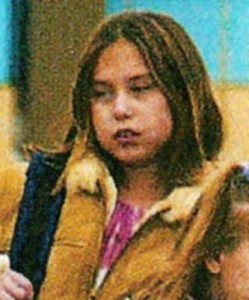 KIMBERLY ANN SCOTT-Narodila se 9.ledna 1975
Rodiče:Kathy a ??
Sourozenci:Dawn Scott
Ex manžel:Marshall Mathers III
Přítel:Eric Halter
Děti:Hailie a Whitney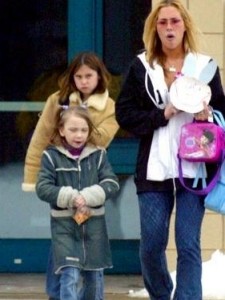 Komentáře
Přehled komentářů
---
---